3/4 cup clam juice or fish stock
2 envelopes gelatin
2 (7oz) cans sock-eye salmon (or 1 15oz can)
6 flat anchovy fillets
2 tbl capers
2 green onions chopped
Juice of 1/2 lemon
1 tbl chopped dill
8 drops Tabasco
1-3/4 cups sour cream
parsley or dill for garnish
Warm clam juice with gelatin, put remaining ingredients except sour cream in food processor, add gelatin mixture.
Process till smooth, add sour cream and blend until mixed. Chill overnight.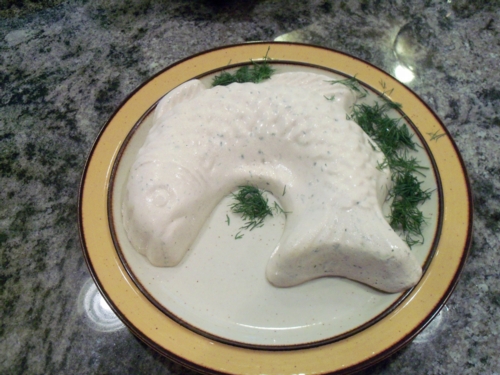 Serve with crackers. A mousse of this kind is really hit or miss depending on the crowd you're serving.  You can also serve this as part of a brunch buffet, with bagels, sliced tomato, and onions, along with a side of lox, if you'd like. (A classic New York brunch)  You'll note the title is Salmon Mousse I, yes, there's a II that we'll make in next few weeks, in case you'd like a variation on this theme.
3 Responses to "Salmon Mousse I"
wine blog Says:
August 31st, 2011 at 3:49 pm

I love the fish mold idea! I'll have to put this recipe to use and serve it with a nice glass of crisp white wine. Perfect idea for the warm summer down here where I live in the Southwest. Cheers!

ROJAK Says:
September 21st, 2011 at 11:52 pm

at first glance, I thought it was Salmon Mouse..lol

Anonymous Says:
October 25th, 2011 at 3:47 pm

Salmon Mousse? I've never heard of it but it sounds interesting. Looks good in the picture. Love the idea about the fish mold:)
Leave a Reply