Welcome back. This week we'd like to share with you a traditional lasagna recipe.
First, the ingredients:
1 recipe Pasta Sauce
2 lb. lasagna
3 lb ricotta
1 egg
1-1/2 lb mozzarella (shredded)
Cook the lasagna noodles in a large pot of water until al dente (a bit hard). Drain. Rinse with cold water to keep from sticking.
In a mixing bowl, mix the ricotta and egg. Next, begin by putting a bit of sauce in the bottom of a large casserole dish. (note: the dish shown is 9″ x 13-1/2″ x 3″ deep. This recipe will make two of these pans. It's perfect for the 18x13x3 trays you see on buffet racks with sterno keeping it warm.) Then put the first layer of pasta noodles.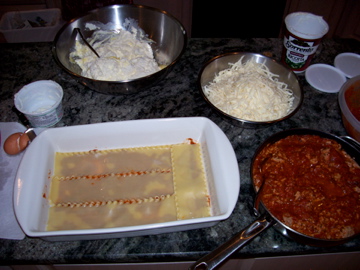 Now, put a layer of sauce, ricotta, and mozzarella.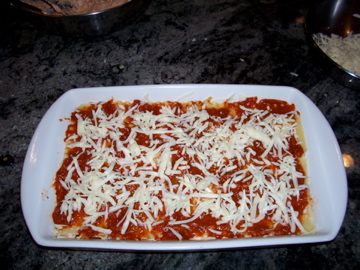 Repeat this process, alternating the direction of the noodles from one layer to the next. Depending on the pan sizes you use, you'll get three or four layers in the two pans or one large tray. Note, to last week's sauce, I added 1-1/2 lbs of ground turkey. Browned a bit, then drained of fat. Once it's all set, bake at 350F for 1 hour, or until it starts to brown. Our oven is pretty accurate, the first time you make this keep an eye out in case your's runs hot. And the final product.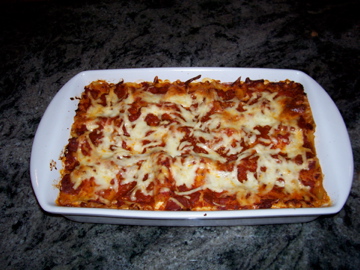 This freezes very well, and the one pan you see can be 6 meals when served with soup and salad, or 8 servings as part of a larger meal. So this effort results in a nice Sunday dinner and a very happy freezer.