A few weeks back, along with the Stuffed Baked Potatoes, we had Southwest Veggie Nachos, an excellent low fat dish.
6 oz backed tortilla chips
1 can (15oz) black beans, rinsed/drained
1 diced green pepper
1/2 cup corn
1/4 tsp ground cumin
1/4 cup sliced black olives
3 tbl pickled jalapeno slices
1-1/2 cups low fat shredded cheese (Mexican blend if available)
4 large plum tomatoes
1/2 cup chopped red onion
1/4 cup chopped cilantro
1 tsp lime juice
1/2 sliced avocado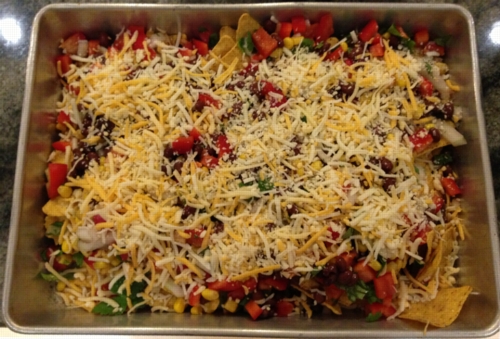 Heat Oven to 425F coat cookie sheet with cooking spray. Spread chips. Combine beans, pepper, corn and cumin, spoon over chips, top with olives jalapenos and cheese, bake 5-6 minutes till cheese melts. Combine tomato, onion, cilantro and juice, mix in avocado, serve with salsa.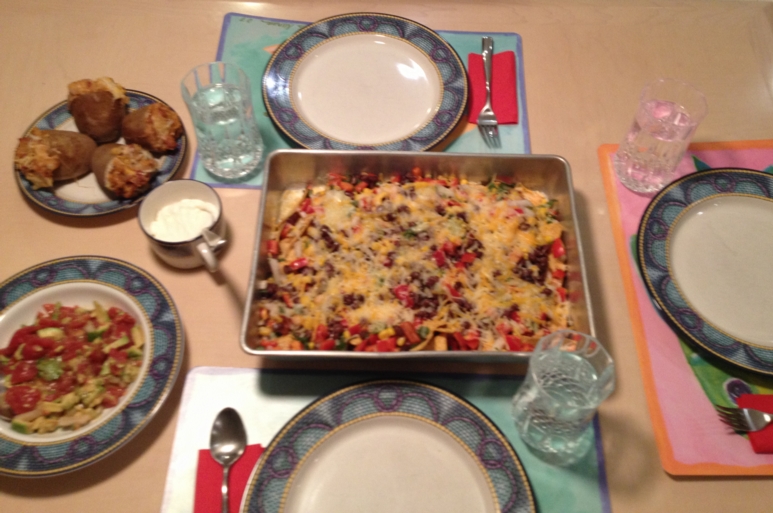 Note – this dish lends itself to any changes you'd like. Add turkey, chicken, or ground beef if you'd like. Leave out the peppers if you don't like hot. Have fun, and enjoy! This was served as a main dish, but would make a great appetizer or game day snack in front of the big screen.