This is easier than you'd think and tempura makes an impressive appetizer. The best part of this recipe is you can make whatever veggies you like, nearly anything will work.
Tempura Batter Recipe
1/2 cup flour
1/2 cup cornstarch
1 teaspoon baking soda
1 teaspoon baking powder
1 teaspoon sugar
1/2 teaspoon salt
1 egg
2/3 cup ice water
Easy – in one bowl, mix all dry ingredients. In a separate bowl beat the egg and ice water, then whisk in the dry ingredients. Don't over mix, it's ok if it's a bit lumpy. Some people add yellow food coloring.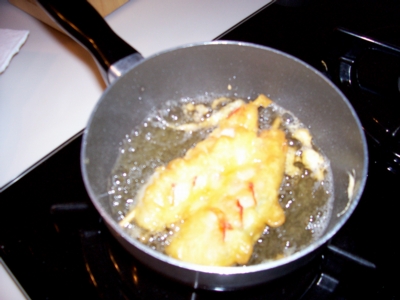 To keep the oil to a minimum, we used a small pan, and just enough oil that we had to flip whatever we were frying. Peanut oil has a high burning point and is a good oil to use for tempura. Above are two shrimp, skewered on bamboo sticks to keep them straight. (You can see, it's a small pan)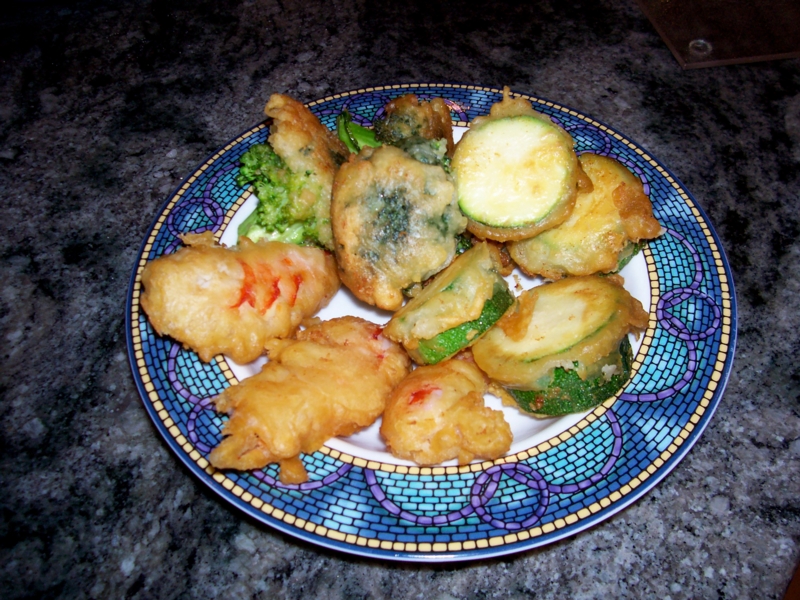 This is a sampler of what we made that day, broccoli, zucchini, and the shrimp. You can use cauliflower, carrots, even chicken "fingers."If you try this recipe, let us know. Thanks for stopping by!