When visiting New York City, there's one thing you can't miss, the hot dog vendors. And there's one thing these vendors have that we've not seen anywhere else, the onions they put on top, along with mustard and sauerkraut. Not just any brand, this is specific to the Sabrett vendors. We recently made this recipe and would like to share it here.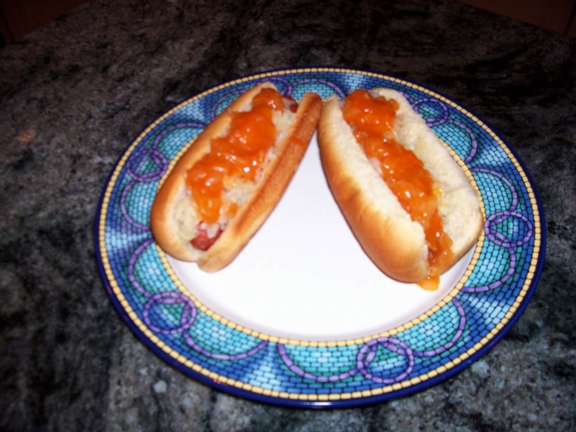 SABRETT'S HOT DOG ONIONS
1 1/2 teaspoons olive oil
1 medium onion, sliced thin & chopped
4 cups water
2 tablespoons tomato paste
2 teaspoons corn syrup
1 teaspoon cornstarch
1/2 teaspoon salt
1/4 cup vinegar
Heat the oil in a large saucepan over medium heat.
Saute sliced onion in the oil for 5 minutes, until onions are
soft, but not brown.
Add water, tomato paste, corn syrup, cornstarch, salt and red
pepper flakes, and stir.
Bring mixture to a boil, then reduce heat and simmer for 45 minutes.
Add vinegar. Continue to simmer for an additiona1 30 to 45 minutes (last 15 or so minutes with no lid)
or until most of the liquid has reduced and the sauce is thick.
Makes about 1 cup.
For anyone who has eaten the original, and tries this, let us know what changes you'd suggest, it's 99% of the way there but we suspect it can still use some minor tinkering. Enjoy.
Note: The recipe used to include 1/4 teaspoon crushed red pepper flakes, but we found it too spicy and don't add it any longer.