We often find ourselves short on time, and standing at the refrigerator at 6 PM hoping there's something to eat. Unless you are great with preparing meals in advance or planning your cooking for eat night, this probably sounds familiar to you. One thing that may help ease this issue is a well stocked pantry. Let's look at the top items to consider no matter how small a space your pantry may be: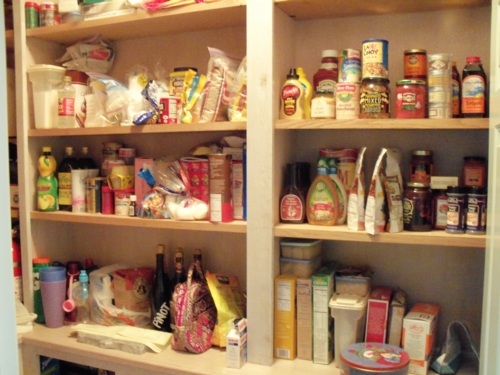 Spices – Salt, Pepper, Cumin, Oregano, Basil – you may add others if your ethnic cooking has spices I missed here.
Oils – Olive, Peanut, and Vegetable – all three are useful and not easily interchangeable.
Sugar, both white and brown. Flour – make sure there's butter in the fridge and you have the makings for cookies and brownies.
Canned Tomatoes / Tomato Paste/ Jarred Sauce – You can go from can or jar to a decent meal on the table in 30 minutes or less starting with tomatoes of one sort or another.
Stock/Broth – I prefer to make my own, nothing like a good chicken broth, even if made in advance and frozen, but in a pinch that package from Trader Joe's or Whole Foods will save the day.
Rice, Pasta, canned Beans – these will all last nearly indefinitely, so stock up when on sale.
This list isn't comprehensive, just my top 10 or so items. What do you have in your pantry? Has it helped you create a fast meal?