When I was a youngster in Brooklyn (NY) there was a restaurant named Junior's which was known for having the best NY style cheesecake. It's still there and in fact, there's a location now right in midtown Manhattan. Some time ago, over 30 years, the New York Times printed the Junior's recipe, and I've made it, unaltered, and enjoyed the results every time. I've seen other recipes claiming to be Junior's, I can't vouch for them, maybe they are copycat recipes. I only know mine came from the paper of record, and I've never gotten a complaint. I was just at a book group discussion and served this cheesecake. The first thing I was asked is if I was willing to share the recipe. Here's the recipe, a few pictures and some advice.
Junior's Famous Cheesecake
1 lb. + 14 oz. cream cheese
7/8 cup sugar
2 Tbs cornstarch
1 large egg
1 tsp vanilla
1/2 cup heavy cream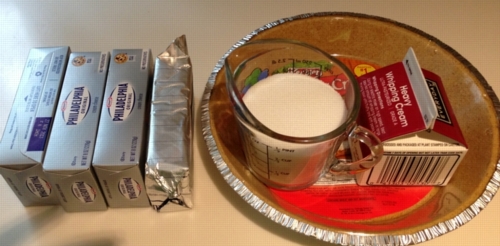 Ok. You caught me, I use a graham cracker crust, premade. The crust is the least of the recipe, you can make it from scratch if you'd like.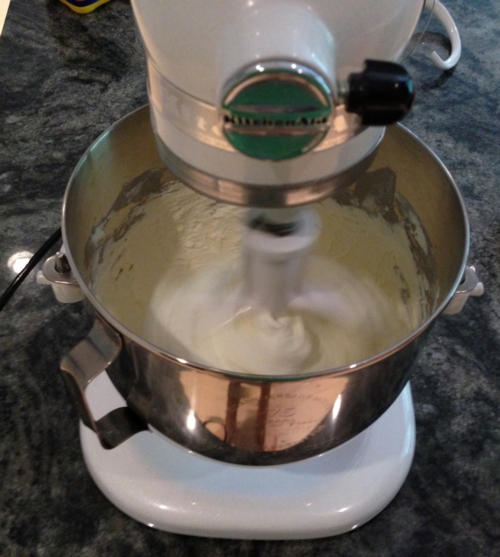 You can mix this by hand, but the Kitchen-Aid can't be beat. Mix cream cheese until light and fluffy, gradually add combined sugar and corn starch, beat in egg, then vanilla and cream. Pour into a well-greased 7 inch pan with graham cracker crust on bottom.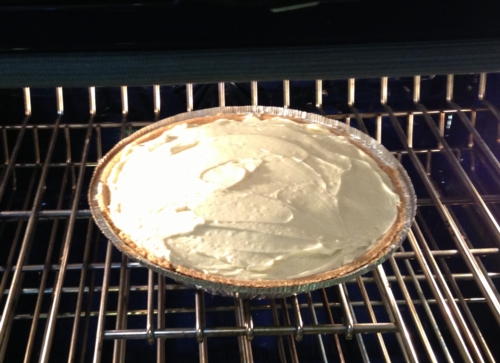 It looks light in this picture, but this weighs over two pounds. Bake in a pre-heated 450° oven for about 40 to 45 minutes or until top is golden brown. – I'm struggling with my oven, it browned pretty fast this time, just over 25 minutes. Next time, I plan to start it at a lower temperature, 350. Whatever you do, keep any eye on it. When the top browns, pull it out.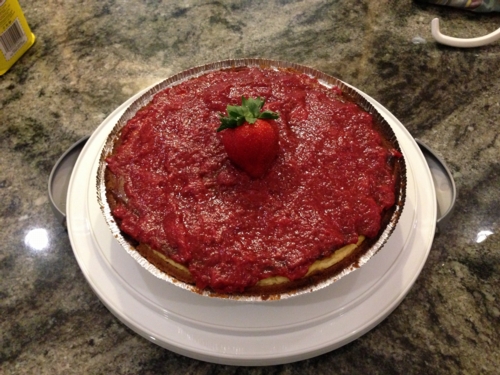 I simmered a pound of strawberries (in 2 TBL water with 1 TBL sugar) for nearly 45 minutes to make the topping. My family told me the topping was too liquified, they'd like chunks of strawberries. My book group friends were too polite to comment on the topping, maybe they'll let me know how they make it. This will make 16 decent sized slices of cheesecake. Last night, half of it served 12 people. If you've ever been to New York, or a just a fan of NY style cheesecake, try this out and let me know how you liked it!