Hummus is a middle eastern dish commonly used as a dip for veggies or pieces of pita bread. You'll find it in the grocery store in small containers, 8oz or so.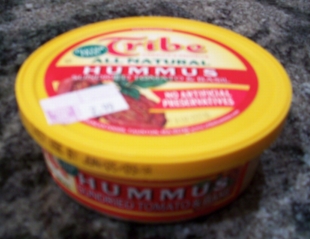 This supermarket hummus was $2.99.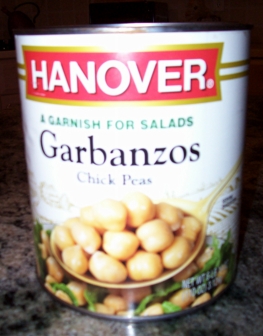 See this can of Chick Peas? 110oz (almost 7 lbs!) from Costco. $2.75. Crazy.
Basic Hummus Recipe
32oz Chick Peas (volume not weight)
5 oz of the liquid from can
2 tbl minced garlic
2 tbl tahini
4 tbl lemon juice
All ingredients are put into a food processor and blended until smooth. That huge can will make about 4 recipes worth, great for a big party. Of course you can buy smaller cans in the supermarket and make one recipe. We use chick peas on top of salads or to add to soup, so they don't go to waste. If you are not familiar with tahini, it's a paste made from ground sesame seeds and available in the ethnic section of most supermarkets. If you can't find it, almond butter can substitute. This recipe lends itself to adjustments depending on your taste. More garlic? More lemon juice? Why not? Start with the amounts above and add to suit your taste. Enjoy.