If you are a fellow food blogger or just a reader looking for good sources of new recipes, take a look at RecipeBuzz. A new site we just launched.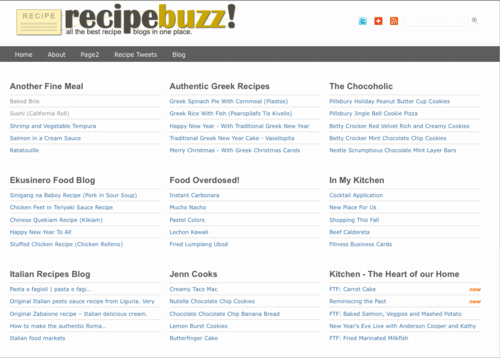 At RecipeBuzz, you'll find the latest post titles from your favorite food bloggers. If you have a blog you'd like included, please stop by and submit it. Any blog who posts recipes on at least two of their prior five posts will be consider for inclusion.
Catch the Buzz!
2 Responses to "Introducing RecipeBuzz"
Martha (MM) Says:
April 22nd, 2011 at 9:01 am

Hi,
Just checking out some of the blogs at Recipe Buzz. What a great idea! Are you still planning to add new blogs? I added my link in the comment section

admin Says:
April 22nd, 2011 at 9:15 am

Yes, I'll add it soon. Out on vacation right now, so I kept the note unmoderated to remind me when I get back. I appreciate the complement.
Leave a Reply