A month back we offered a Peach Gelato recipe. Well, the recipe is flexible enough that you can substitute strawberries and have another great flavor to enjoy;
2 cups sugar
2 cups water
2 cups lowfat buttermilk
5 cups cut up strawberries
First, early in the day, or the day before, heat the water and sugar until the sugar is completely dissolved. Let cool, and put in fridge to get cold.
Next, mix the strawberries with the sugar-water, buttermilk, in a food processor or blender. Place the mix into an ice cream maker and mix until smooth.
A couple points to note. The particular ice cream maker is sized to only make half this recipe at a time. You can either make the full mix as above for two batches or measure half of the recipe as shown above. Also, this comes out pretty good if you don't have an ice cream maker by putting into a metal bowl in the freezer and stirring with a fork every half hour or so, more frequently as it starts to solidify. Enjoy.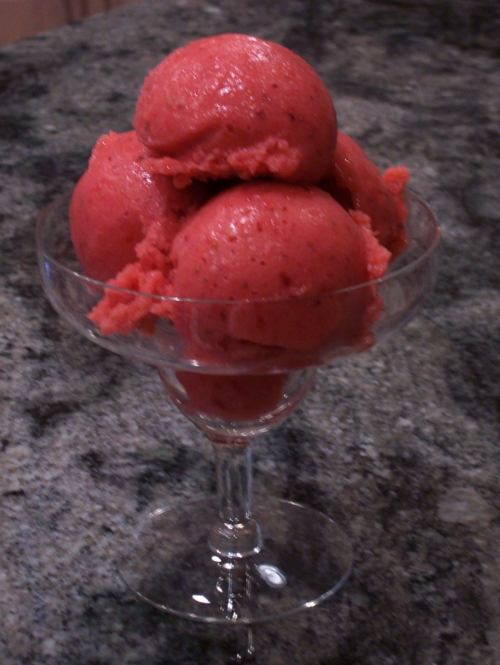 I think we'll have one more gelato flavor before the summer comes to a close.
3 Responses to "Homemade Strawberry Gelato"
Paulineh Says:
July 31st, 2009 at 6:31 am

This looks a fabulous recipe and just perfect for a summer's night. I will be making this one.

admin Says:
August 24th, 2009 at 12:52 pm

Yes this a yummy great and easy recipe. I just wanted to let you know that we are going to be showing some smoothie recipes soon and also some mocha drinks for fall and winter. if you have any questions please let me know and if you want to see more recipes like pasta or something like that please don't hesitate to leave a comment just like this one and I would be happy to get back to you as soon as i can but I am going to be starting school in a week so i am going to be busy but I would love to help you out

Rachel (the daughter of the Another Fine Meal team)

Prudence Charlz Says:
July 26th, 2011 at 3:03 am

It makes me crave for gelato. I never thought this could be easy. And you've even gave two way to do it. Thanks for this.
Leave a Reply